News
---

8.28.06 - Emmy pictures! Kim Raver on the red carpet. And from the back. And again from the front.

8.11.06 - Since ABC's Invasion was cancelled after one year on the air, Eddie Cibrian (he of the dimples) has been cast in FOX's new drama, "Vanished," as an FBI agent.

6.5.06 - Josh Stewart is starring in a new show called Dirt. Dirt is created by Matthew Carnahan, and is executive produced by Courteney Cox and David Arquette. Cox also stars in the show as Lucy Spiller, the editor-in-chief of two high-circulation celebrity-obsessed tabloids. Also starring are Laura Allen ("The 4400") as an actress on the rise, Ian Hart ("Finding Neverland") as a photographer and Stewart plays an actor badly in need of a hit.

6.2.06 - People Online: Golden Girls Beyoncé strikes a pose with actress pal Nia Long at a friend's New York City birthday bash on Wednesday. The singer-actress has every reason to feel festive: a sneak peek of her upcoming film Dreamgirls got raves at the Cannes Film Festival.

4.17.06 - If you're a fan of Kim Raver, don't miss TVGuide.com's exclusive video from her recent TV Guide photo shoot.

4.17.06 - TVGuide.com Insider: 24's Audrey & Jack: Happily Ever After?

by David Hochman

In this TV Guide Q&A, Kim Raver of Fox's powerhouse 24 (Mondays at 9 pm/ET) shares exclusive intel on stolen kisses, sad goodbyes and Audrey Raines' future with Jack.

TV Guide: Let's get this straight: Jack was just roughing you up [in the April 3 episode]. Now you're working with him again?
Kim Raver: There have been so many crazy switches for Audrey, but it works perfectly for her character. Her father was in the military and was secretary of state, so this ability to flip sides for the good of the country — it's almost inbred. If it's about saving lives, you get over whatever grudges you have and you move forward.

TV Guide: Moving forward is one thing, but making out with the guy? What was that like?
Raver: Kiefer [Sutherland] and I have a lot of trust in our relationship, and I trusted that we could let go in that scene. But definitely the first time we kissed, we were both so nervous. It was like the first day of school. It felt like jumping off a big bridge. We said, "Let's hold hands and go for it." Plus, if you have to do it with anyone, Kiefer Sutherland is a pretty damned fine choice.

TV Guide: Audrey's a lot tougher lately. Is she eating spinach or something this season?
Raver: I thought it was important after everything she's gone through [the death of her estranged husband and the presumed death of Jack last season] that Audrey would become stronger. Physically, I made a choice to cut off her hair and go less blonde. Last year Audrey cried a lot; this season she needed to become proactive. Otherwise she was totally going to fall apart.

TV Guide: Edgar and Tony are dead. Audrey and Jack are heating up. Has 24 hired a bunch of soap-opera writers?
Raver: It's the intensity of the show that allows you to earn those softer moments. And that's what makes them amazing. Tony and Michelle or Chloe and Edgar or Jack and Audrey will glance across CTU in the middle of a crisis, the audience will go, "Whoa! What was that?" It comes from that fear of losing someone. As 9/11 showed us, you cling to those moments of humanity even more when you don't know if this is going to be your last moment. If all you get is that one fleeting kiss, you have to take it — because Jack has to go off and save the world.

TV Guide: What do you do to relax after those tough scenes?
Raver: Kiefer's taught me how to play darts. And chess. I'm not very good.

TV Guide: How hard was it saying goodbye to Carlos Bernard, who's been with the show from Day 1?
Raver: It's tough when anyone leaves the show, but it was especially hard with Carlos. He was more than just another actor. Carlos was a presence on the set. He was very funny and sort of the group prankster. We had a party for him, but looking around I got the feeling nobody — not even the producers and writers who wrote him off — wanted to see him go.

TV Guide: What's ahead for Audrey?
Raver: We're going to see her establishing contact with her dad [William Devane] in the next episode. She goes to him because he's really the only one she can trust as things turn dark in the White House. Beyond that, I think her future lies with Jack. It may not be physically with him. But I think there's something between them that is one of those rare things between characters, and it will always be there. Whether it's the wedge that keeps them apart or their struggle to come together despite all the odds, their lives will always be intertwined.

4.13.06 - Cara Buono has been cast as a love interest for Christopher (Michael Imperioli) on The Sopranos.
3.31.06 - Amy Carlson has been cast in ABC's insomnia-cop drama, Drift.


3.1.06 - Nia Long, Amber Valletta and Kate Nelligan have joined the supernatural thriller Premonition, about a housewife (Sandra Bullock) whose hubby pops up alive the day after dying in a car crash.

2.28.06 - Bobby Cannavale has been cast as the lead in Paul Reiser's CBS comedy about a family car dealership.

2.22.06 - Kim Raver has been cast in ABC's drama about nine strangers held hostage during a bank robbery.

2.14.06 - Coby Bell has been cast in the pilot of CW's untitled spinoff of Girlfriends. Also cast are Aldis Hodge, Cynthia Addai Robinson, Hosea Chanchez, and Wendy Raquel Robinson. The pilot will air as a regular episode of Girlfriends later on this season.
| | |
| --- | --- |
| | Nia Long by Steve Granitz/WireImage.com |
1.27.06 - TV Guide Online Caught in the Act Big Momma's sleeves: Honestly, Nia Long's odd ensemble of stockings, velour shorts, black heels and bra-revealing blouse has us admiring those purple housecoats behind her at the premiere of Big Momma's House 2.

1.25.06 - Kim Raver will star in the upcoming comedy "Night at the Museum" along with Ben Stiller, Carla Gugino, and villains Mickey Rooney and Dick Van Dyke.

12.3.05 - Don't miss Bobby Cannavale in "Recipe for a Perfect Christmas," airing Monday, December 5th, on the Lifetime channel at 9pm.

11.14.05 - Bobby Cannavale has inked a deal to headline his own New York-based sitcom for NBC.

11.11.05 - Skipp Sudduth will guest star as a victim's father on the November 22nd episode of Law & Order: SVU on NBC. USA Network will also air the episode on Sunday, December 4th at 11pm.
| | |
| --- | --- |
| | Kim Raver courtesy Lifetime |
10.03.05 - TV Guide Dual Role Doesn't Scare 24 Star
by Matt Webb Mitovich
Just how frightening is Lifetime's Haunting Sarah, starring 24's Kim Raver as twin sisters (premiering tonight at 9 pm/ET)? Well, let's just say that the review tape spooked my office VCR into submission. (Meaning I get a new one. Score!) Even so, TVGuide.com scared up enough literate Q's to lob at the actress.
TVGuide.com: How did you prepare to play twins? Bone up on episodes of the Patty Duke Show?
Kim Raver: [Laughs] This all happened pretty fast after I finished [Season 4 of] 24. But I did grab a couple of books on twins, and I tried to rely on my relationship with my sister — we're three years apart — with regards to the competitiveness and that sibling connection that you don't share with anyone else. But there is something unique to twins, and that was amazing to read about. And then I took what I could from the script about who these people, Erica and Heather, are. It was definitely wild playing two separate people in the same film; it reminded me of doing two different plays in regional theater and running from one rehearsal space to the other.
TVGuide.com: How are the sisters different? Is one a book-smart librarian and one a floozy?
Raver: [Laughs] Well, seeing as I played them, I wouldn't label them quite like that. Of course people always say "one's good, one's evil," and twins kind of laugh about getting labeled like that. Erica is a professor of mythology, a real jeans-and-T-shirt woman, and Heather is a pediatrician who's into having the big house and money and what people think of her. But what I thought was interesting is, you'd think the woman into mythology would kind of go to the supernatural first [to explain an eerie event], and that's not the case. Heather, the woman of science who really should be against the supernatural and believing in ghosts, goes there first.
TVGuide.com: Just to bring everyone up to speed, Heather's son is dead... but kinda not.
Raver: He's physically dead, but she believes he's coming back to her.
TVGuide.com: And at Halloween time, no less.
Raver: Of course! That makes it so scary. That's the time spirits come back to haunt us.
TVGuide.com: What's your favorite horror film?
Raver: I can't watch gory, Friday the 13th-type stuff. I'm such a wuss. [Laughs] So I would say The Shining, because it's just terrifying and Jack Nicholson is so good in it. What's scary is when stuff is rooted in reality and you go there believing in it, and then it takes a turn and you're like, "Oh, my god!"
TVGuide.com: In the interest of full disclosure, I must tell you that, at times, I have poked fun at Audrey's nonstop bawling on 24.
Raver: Well, good! So when I go online afterward, I won't be like, "Why is this guy who just interviewed me making fun of me?!" No, I agree. When you get a script you try to play it different ways, but....
TVGuide.com: To be fair, she had a lot to cry about, with the creepy hubby dying and all.
Raver: Exactly.
TVGuide.com: What can you spill about the upcoming season of 24?
Raver: Not a lot....
TVGuide.com: Were you surprised to get asked back?
Raver: Yeah, because as any kind of love interest for Jack Bauer, you've got a bull's-eye on the middle of your forehead, practically.
TVGuide.com: Literally, at times. Ask Teri.
Raver: Yeah, exactly! But it's amazing working with Kiefer Sutherland — an opportunity like that doesn't come along often. He cares so much about the work and is so good at what he does. And he also knows how to have some good laughs on the set between takes, because it is such intense material.
TVGuide.com: Are you working with any of the newcomers — Jean Smart, Sean Astin, Connie Britton...?
Raver: I'm working with Sean Astin, who is also a riot. He's one of the funniest guys I've met, and just so much fun to work with. And he's also so passionate — he comes in there all fired up, so it's great to have him there. [Pause] I'm being very particular with my words because I know at any minute I'll spill the beans about something! [Laughs]
TVGuide.com: This is part where you tell me that President Palmer will be back.
Raver: I... don't know!
TVGuide.com: Fine, then. You were on Sesame Street when you were 6. Give me some dirt from that.
Raver: It was like paid preschool for me. I knew where they stored Snuffleupagus, and I would watch him come down from the rafters.... Three guys had to operate that thing, which was really cool.
TVGuide.com: Was it emotionally shattering to discover he wasn't real?
Raver: No, everyone asks me that but I had never watched the show, I was just on it. It wasn't like I was attached to the characters and then had to watch them break apart Big Bird. "Oh, there's a person inside!"
TVGuide.com: Does your son know about your Sesame Street past?
Raver: No, but he really digs Elmo and all the characters on there. It's funny, once he was really missing me when I was shooting so my husband, who happened to be flipping around the channels, said, "Well, there's Mommy right there!" It was a Third Watch rerun! My son was like, "Cool!"
TVGuide.com: Tell me about the film you did, Prisoner.
Raver: I just shot it a couple month ago with Julian McMahon (Nip/Tuck). I play his mother, actually, in flashbacks. It's a great, great story, with an amazing cast, including Julian and Elias Koteas, who's unbelievable. We're waiting to find out whether it will go to Sundance or not.
TVGuide.com: So, um.... How much 24 are you doing?
Raver: You'll have to wait and see!
9.19.05 - More news on Third Watch alums from cubtat2.

9.15.05 - Some news on your favorite Third Watch stars from cubtat2.

9.14.05 - FOX has confirmed that Kim Raver will be back on 24 this upcoming season for some number of episodes.
9.12.05 - At Sunday's Creative Arts Emmys, where, for some reason, they award the Emmys for best guest actors, Bobby Cannavale won best guest actor on a comedy for his role on Will & Grace.
7.28.05 - Jason Wiles has been cast as the deputy press secretary in ABC's new show Commander-In-Chief.
6.6.05 - Eddie Cibrian's show, Invasion, has been picked up by ABC for their fall season. The show is about an alien invasion in Florida after a wild hurricane; Eddie Cibrian plays a divorced dad (sounds familiar). The show is due to air on Wednesdays at 10pm ET.
5.9.05 - There are already some items from the set for sale on eBay:
A certificate of community service for Sasha Monroe auction ends May 10
Captain's desk namplate: Thomas Elchisak auction ends May 12
A certificate for the Honor Legion for Bosco auction ends May 12
5.2.05 - NorthJersey.com: Lights out for 'Third Watch' - The New York precinct affectionately known as "Camelot" hadn't even been fully dismantled - or "struck," as industry people say - before salvage crews from another, very different East Coast drama arrived on the scene. "The prop guys from 'The Sopranos' were walking through picking things," says "Third Watch" co-creator Edward Allen Bernero. "It was like, 'Guys, let us stop breathing before you come in and pick us clean.'" Breaking up is hard to do - especially with a beloved, long-running show like "Third Watch." More...
4.20.05 - Executive Producer Edward Allen Bernero has signed a 2-year development deal with Paramount Network Television, for a reported seven figure bottom line, according to The Hollywood Reporter. Bernero will develop new series as well as potentially participate in current series and/or projects.
4.7.05 - Skipp Sudduth is in Biography Magazine this month.
4.1.05 - Jason Wiles has been cast in the CBS ensemble pilot Commuters, which already features David Arquette and Christine Taylor.
3.24.05 - NBC has decided not to bring Third Watch back for a 7th season. The season finale this spring will also be a series finale.
3.21.05 - Kim Raver will be on The Tonight Show with Jay Leno the night of Wednesday, March 23rd.
3.21.05 - On Saturday, Nia Long won an NAACP Image Award for best actress in a television drama.
3.16.05 - The Hollywood Reporter reports that NBC is leaning toward pulling the plug on Third Watch at season's end.
2.3.05 - The New Zeland Herald: Arrested development in Third Watch - The real-life drama unfolded on the set of Third Watch the other day. Coby Bell, who plays Officer Ty Davis jnr, was innocently studying his lines when his cast mate and soon-to-be nemesis Skip Sudduth attacked him with a syringe....
1.25.05 - MovieHole.net does an exclusive interview with Nia Long.
1.13.05 - Don't miss Bobby Cannavale in the off-Broadway production Hurlyburly, playing at The Acorn Theater, 410 West 42nd Street.
12.29.04 - The MSN Entertainment staff wrote about the best and worst television of 2004, and called Third Watch one of the worst dramas. The original triptych of police, firefighters and paramedics has been manhandled with lurching excursions into soap opera and can-you-top-this catastrophes. Recent episodes are much improved, especially in production values, but can you un-jump the shark?
12.22.04 - NBC's cop project, NY-70, based on the two NYC cops made famous by the film "The French Connection" - Eddie Egan and Sonny Grasso, has cast Bobby Cannavale as the pilot's star. Cannavale's character is based on the professional life of cop Sonny Grasso.
12.6.04 - The Palm Beach Post did an article on the Feisty Females of Prime-Time TV. Here is their interview with Molly Price:
What makes your character so tough? "Truthfully, I don't know. But tough connotes a hardness and a negative connotation. To me it's sexist that Yokas is tough. If I had a (male member) she'd be TV's sexiest cop. Or the most recently available bachelor. I just find the description sexist. She's a beautiful, smart woman who is incredibly sweet, innocent and somewhat naive."
Do you identify with her? "I never knew a cop in my life. I grew up in an upper middle-class family with five kids. In a way I can identify with her being surrounded by people all the time and she has a lot of voices in her head. I grew up in a family that told you what to do and how to do it and when to do it. She answers to a lot of people in her life and feels responsible for the people in her life. She's much more tolerant than I am. I wouldn't go for some of Bosco's nonsense."
Dream tough-girl role: "Lucy (from I Love Lucy). I'm actually a comedienne by nature. I really love to be funny and she was the greatest. Maude was amazing and so ahead of her time. (Cagney & Lacey's) Tyne Daly is a national treasure."
Favorite female role models: "My mother. My father died of Lou Gehrig's disease when he was 54. My mom was a schoolteacher and taught special ed. She raised five kids and educated them all into college. She's the most admirable woman I know."
Favorite Yokas moment: "The episode where the kids got shot in school. Faith comes home at the end of the day and just wants to see her kids and to know that they're safe. There's no dialogue. Just me going into the room and sitting on each of their beds. I recently became a mom and at that time I was contemplating getting pregnant and I remember thinking, 'I hope I'm going to be a good mom.' "
Strong characters. vs. timid characters – which are more fun: "Both are fun to play, it depends on why the character is being strong or why the character is being timid. Strong is more fulfilling at the end of the day. I'm a method actor and when I have to play a damaged character, that stays with me for a while. But sometimes it's OK to have a good cry."
11.9.04 - The November 7th issue of TV Guide gives Jeers to Third Watch for miscasting Chris Elliott as a serial killer. After so many years of silly gags on Letterman and Everybody Loves Raymond, it was impossible to take the cutup seriously as a psycho. Sadly, the laughter Elliott earned this time was purely unintentional.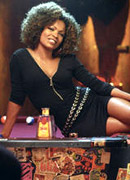 11.8.04 - TV Guide Online: Third Watch Star's Cop Drama

by Angel Cohn

When actress Nia Long joined the cast of NBC's Third Watch (Fridays, 9 pm/ET) last year, she was thrilled to play policewoman Sasha Monroe right on New York City's mean streets. In fact, the 34-year-old Brooklyn native looks so convincing, passersby sometimes mistake her make-believe for reality.

"[I love] running around the streets of New York in a cop uniform with a gun," Long happily tells TV Guide Online. "[Recently,] I was on a long break. I had my uniform on, but I was on my cell phone and was wearing flip-flops. My shirt was out, but I had my gun belt on. And this woman, someone hit her car and ran.

"She's like, 'Miss, you are police officer, right?' I'm like, 'No, what are you talking about?' I forgot that I had the uniform on. She's like, 'I need someone to call the police.' I'm like, 'Well, call 911, I'm not a [real] cop.'"

Aside from these occasional moments of confusion, Long enjoys her work atmosphere. "People in New York City love the show. We have so much support and it is really hard work," the petite gal says. "And at Third Watch, those people are my family."

Speaking of kin, Long left acting a few years ago to have her now 3-year-old son. Between Third Watch and her current big-screen role in Alfie, she's definitely accomplished her comeback. "Taking a break and coming back to this is a true testimony to my faith," she sighs, "because not many people walk away and say, 'Bye, I'll be back.'"

Working alongside the dreamy Jude Law helped make the transition back to work easier — even if she's just one of his many lovers in the film. "He was just great," she smiles. "None of the girls actually saw each other. It was like I had him for two weeks and then Marisa [Tomei] had him for two weeks. We shared him.

"One day, I left and came back and said to Jude, 'How are you feeling? You've had all these women in a short period of time. Are you OK?' He's like, 'It is like eating too many chocolates.' It was a perfect way to describe it."

10.22.04 - NBC.com has an exclusive interview with Ed Bernero. "I love all my characters - even firemen. And cops hate firemen!" - Ed Bernero

10.22.04 - ESPN's new drama series Tilt (premieres January 13) has cast Eddie Cibrian and Chris Bauer. The show is a dramatization of the world of high stakes tournament poker; Cibrian's character is one of the players, while Bauer plays a sheriff.

10.14.04 - AZCentral.com: Stepping In - an interview with Bobby Cannavale about his role in the new movie "Shall We Dance" starring Jennifer Lopez and Richard Gere

QUESTION: How much did you know about ballroom dance when you took the role?
ANSWER: I knew nothing, so I trained for three months. Jennifer (Lopez) was doing a movie in Vancouver, so she got trained up there, and I was in New York, so I got trained with Stanley (Tucci), Richard (Gere) and Lisa Ann Walter. The good thing is none of us knew how to dance, so we all started off on the same foot. That brought us close. Even Richard. The first time I met him he said, "Look man, I'm on the same page with you." I said, "No way, come on, you danced in Chicago." He said, "No, I did a little soft-shoe, that's it." When people are laughing at us in the film it's because we really have those same insecurities.

Q: You've been everywhere: Sex and the City, Will & Grace, Six Feet Under and The Station Agent. Which do you consider your first big break?
A: Career-wise? The Station Agent. Personally as an actor, eight years ago I was in a play with Mark Linn-Baker. I was an understudy and the guy I was studying left to do a movie, so I took over. I went on and killed 'em. It was the best I ever did. After that I got cast right away in the TV show Trinity, which led to Third Watch. And it's funny. Years after I stopped Third Watch, people still come up to me and say, "Oh my God, I cried so hard when you died! I can't handle it!" I tell them, "I died four years ago, I'm OK now, see?"

Q: What do you have coming up next?
A: A musical called Romance & Cigarettes, by John Turturro. I sing and dance in it. It's the best cast ever: Susan Sarandon, Christopher Walken, Kate Winslet, Mandy Moore. I play a guy who thinks he's James Brown and he's the lead singer in a band, and the band is Aida Turturro on drums, Mary-Louise Parker on guitar and Mandy Moore on bass. It takes place in Queens and it's about regular people with troubles. When they can't communicate with each other, they break out into song.

Q: What do you do for fun when you're not working?
A: I love to order songs off of iTunes. Mostly I love to stay in and clean my apartment. Is that weird? I mean, like hard-core cleaning - scrubbing the toilets, mopping the floors, washing the walls, moving furniture. Maybe because I'm really busy jumping back and forth between New York and LA, it makes me feel like I have a routine. But I really get into it. I like to clean my oven and stove so much that it will be all shiny, and then I'll take a picture of it. Or like, I have lot of light in my apartment and I have this great banister, so I'll shine the light on it to show off the staircase. I have this stuff called Mr. Muscle, and I'll spray it on and it gets so shiny, I'm like, "Wow, I've never seen it that shiny!" so I go and take a picture of it. (laughs) That's so lame, I can't believe I'm telling you this!

10.5.04 - From TV Guide Online: Third Watch's Amy Carlson and Oz's Kirk Acevedo have joined Dick Wolf's latest Law & Order spin-off, Trial by Jury. They'll star opposite Bebe Neuwirth, Jerry Orbach and Fred Thompson.

9.29.04 - Chris Elliott will guest star in the October 15 and October 29 episodes. For a tiny bit more about his character, see the previews page.

9.8.04 - The upcoming DVD of 24's third season will include an exclusive mini-prequel that sets the stage for the serial thriller's fourth-season premiere in January, Variety reports. The 10-minute episode — which will not be shown on TV — will introduce many of Season 4's new characters, including Kiefer Sutherland's latest love interest, played by Third Watch's Kim Raver. The seven-disc set arrives Dec. 7.

8.25.04 - Zap2It.com: 'Third Watch' Adds Regulars, Guest Stars

NBC's "Third Watch" will feature one of television's most rapidly changing casts this fall. The Friday night drama has added two new regulars and a pair of high profile guest stars for early episodes.

Joining the cast full-time are Cara Buono and Josh Stewart, while Aidan Quinn and Charles Haid are set for appearances.

Buono is already familiar to the show's fans from a pair of episodes last season as somewhat obnoxious paramedic Grace Foster. The actress has been seen in episodes of "Law and Order" and "CSI: Crime Scene Investigation," as well as the CBS movie "Deep in My Heart."

Stewart is another "CSI" veteran and will play Shawn Finney, a new officer in the 55th Precinct who hails from a family of cops.

Starting in the season's second episode, Quinn will begin a four-part stint as a tough police lieutenant brought in to clean up the Anti-Crime squad.

An Emmy nominee back in 1986 for "An Early Frost," Quinn is becoming a TV movie regular with recent roles in A&E's "Benedict Arnold: A Question of Honor," CBS' "Plainsong" and the Lifetime movie "Miracle Run." He'll also be seen in HBO's upcoming "Empire Falls."

Also stopping by for a brief visit is Haid, who will play the head of the NYPD's Internal Affairs department. A two-time Emmy nominee for acting on "Hill Street Blues," Haid has turned his attentions to directing, picking up two more Emmy nominations for work on "NYPD Blue" and "Murder One."

8.25.04 - Zap2It.com: FOX, CBS Work with 'Third Watch' Creator - Edward Allen Bernero, co-creator of NBC's long-running drama "Third Watch," is branching out. Bernero, about to start his sixth season executive producing "Third Watch," has signed a seven-figure deal with 20th Century Fox TV....

8.10.04 - Kim Raver will join the cast of 24 (on Fox) as Audrey Raines, an aide to the secretary of defense in Washington and a potential new love interest for Kiefer Sutherland's character.

8.9.04 - Aidan Quinn will guest star in multiple episodes of Third Watch as Lieutenant Miller.

7.30.04 - The Futon Critic reports that newcomer Josh Stewart is set to join the cast of Third Watch. He'll play a recent graduate from the police academy.

7.19.04 - The Cincinnati Post reports that Gene Simmons said he would reprise his guest role as a mob boss on "Third Watch" when the NBC series returns in the fall. He is scheduled to appear in a two-part season premiere, picking up his character from May's finale. He plays a vengeful father who uses his crime family to go after police officers because his son was killed in a car chase.

7.15.04 - Third Watch received an Emmy nomination for Outstanding Stunt Coordination for "Payback." The awards ceremony will air live on ABC on Sunday, September 19th, from the Los Angeles Shrine Auditorium, and will be hosted by Garry Shandling.

5.17.04 - NBC has announced that Third Watch will move to Fridays at 9pm ET when it returns for a 6th season in the fall.

5.10.04 - By the way, in case you hadn't heard, Third Watch has been officially renewed for a 6th season by NBC.

4.1.04 - No joke, Kim Raver is leaving Third Watch after this season. Her last episode will be the season finale.

3.19.04 - The March 13th issue of TV Guide gives Jeers to Third Watch for engaging in gunplay to fire up the ratings. In recent weeks, NYPD officer Faith Yokas (Molly Price) got shot, paramedic Doc Parker (Michael Beach) shot up the firehouse, and mobster Allie Nardo (Nicholas Turturro) shot himself. This show used to be about life-saving, not life-taking.

3.10.04 - Bobby Cannavale will guest star on the March 18 and March 25 episodes of Will & Grace.

2.7.04 - Rumor has it that the February 20th episode, "No More, Forever," will be Michael Beach's last show.

11.29.03 - Zap2It.com: 'Blue' Alum Turturro Joins 'Third Watch' - Two-time Emmy nominee Nicholas Turturro is crossing over to the wrong side of the law in his next TV role. Turturro, who played Detective James Martinez for six-plus seasons on "NYPD Blue," is joining the cast of NBC's "Third Watch" for a multi-episode arc. He'll play a low-level mobster....

10.13.03 - From TV Guide Online: Ann-Margret on Stalker Watch

NBC's Third Watch needed a sexy, feisty actress of a certain age to play a judge. Whom to cast? Well, who better than the original Kitten with a Whip herself, Ann-Margret? She'll appear in three episodes during November sweeps as Judge Barbara Halsted. But look out! Judge Babs is the target of a deranged stalker.

"They call her Hang 'Em High Halsted. And there is a reason for that!" Ann-Margret laughs. "She has put away drug dealers and every kind of scum on earth for good, with no parole. So there are several hundred people who are not pleased with her performance! She has to watch her back all the time."

To play a stalker's prey was, unfortunately, not a difficult stretch for the 62-year-old two-time Oscar nominee. Years ago, she says, an obsessed fan began approaching her children at work and school. "It got very sticky — and frightening," she shares. "I understand why I would be targeted. But when it comes to my family, then I call the FBI."

For the judicial aspect of her role, Ann-Margret didn't draw on life experience. "I have never played a judge before," she says, "so I met with several of them in Los Angeles, and went to see them in their courtrooms to take notes and do research." She also admits she'd never even seen Third Watch before this gig was offered to her. "I have to tell the truth," she chuckles. "The producer sent me a few tapes. I had heard friends talk about it, that it was a gritty drama. And I thought, 'Yes! I want to be part of this.'"

9.12.03 - TV Guide Online reports that major changes are coming in Season Five of NBC's Third Watch (starting Sept. 29 at 9 pm/ET). In last season's finale, firefighter Alex Taylor (Amy Carlson) was killed off in an explosion. Viewers also will learn Noble (guest star Tom Berenger) was gunned down. But who cares about them? How will we ever watch Watch without dimpled hunk Eddie Cibrian, who plays paramedic Jimmy Doherty? (Note from TK: Doherty was actually a firefighter.)

That's right. Word is, Cibrian will exit the show mid-season, possibly to be replaced by a new cutie. But why? Cibrian has signed a talent holding deal with ABC, which spells both big bucks and leading man status. Let's face it: The 30-year-old actor will never be the star of Third Watch, which always has been an ensemble show. And make no mistake, he wants to be a star. (For more, see the previews page, but be warned, there's stuff about what will happen to the character of Jimmy before Cibrian exits.)

8.26.03 - TK spotted the Third Watch crew shooting on 9th Street between 5th and 6th Avenues this morning on her way to work. Dressing room names, which are done by character, included Victim, Ingrid and Chad, as well as the familiar DK and Walsh. Anthony Ruivivar was looking calm and collected wearing a blue FDNY polo shirt and having his morning coffee on this hot and humid New York summer day.

8.12.03 - Film great Ann-Margret will guest-star on three episodes of NBC's Third Watch in November. She'll play a a judge who is being stalked and must be protected by New York's finest.

6.20.03 - MSN Entertainment: 'Third Watch' Actress Price-less - It would be a better world if more people were like NYPD officer Faith Yokas on NBC's Monday night drama "Third Watch." Brave, streetwise and loving, she has one of the world's hardest jobs, and she does it with compassion and grace. Tough enough to wrestle doped-up perpetrators, she's also gentle enough to embrace her children. In many ways, Yokas is the woman many strive to be, juggling the pressures of a job, the rhythms of a marriage and the challenges of motherhood. And she emanates a warmth that makes people want to be her friend....

6.19.03 - If you are sad about the way Third Watch has changed over the last two seasons, then sign the "Save the TW FDNY" petition to help keep "bucket boys" and paramedics on the show. Who knows if it will do anything, but it's worth a try.

5.23.03 - From TV Guide Online: Was the grisly death of Alex Taylor (Amy Carlson) in the season ender the final nail in the coffin for the increasingly MIA firefighters? It would appear so. According to exec producer John Wells, Watch will continue to shift its focus to the men in blue. "What the show was delivering before was too diffuse," he says, "and people couldn't get involved enough." In other words, expect to see even less of red-hot fireman Jimmy (Eddie Cibrian) next season.

5.9.03 - From TV Guide Online: Third Watch's fallen firefighter Amy Carlson, whose body was ripped in two during the show's season finale, is pulling herself together for USA network's upcoming Western series Peacemakers. Carlson will play a young medical student in the drama, which stars Tom Berenger as the town sheriff.

4.29.03 - TV Guide Online: Third Watch Mystery: Why Did Alex Die? - Chances are, if you watched last night's Third Watch season finale, the image of Alex Taylor's severed body lying on the pavement remains etched in your psyche....

3.12.03 - Zap2It.com: Berenger to Replace Selleck on 'Third Watch' - Tom Berenger, the Oscar nominated co-star of "Platoon," will make a four-episode guest run on NBC's "Third Watch." According to The Hollywood Reporter, Berenger is stepping into the role vacated by "Magnum P.I." star Tom Selleck, who opted out of "Third Watch" to concentrate on a comedy pilot he's working on for NBC....

2.27.03 - Eddie Cibrian has been cast as the lead in ABC's new drama, Street Lawyer, based on the novel by John Grisham.

2.20.03 - Eddie Cibrian and his wife, Brandi Glanville, are expecting a child in June, 2003.

11.18.02 - Zap2It.com: 'Third Watch's' Texada Gets a Promotion - Audiences will be seeing Tia Texada's tough-talking Sgt. Maritza Cruz on a more consistent basis, as the actress' recurring role on "Third Watch" has now been made that of a series regular. Texada usually appears on the NBC drama opposite the undpredictable Officer Maurice "Bosco" Boscorelli (Jason Wiles) whenever he is loaned out from street patrol, but will more than likely see her role expanded....

8.12.02 - TV Guide Online: Eddie Cibrian's Third Watch Scoop! - Now back from Third Watch's hiatus, TV firefighter Eddie Cibrian is back on the streets of New York City donning 70 lbs. of gear and enduring sticky humidity. But what's even hotter than the Baked Apple in August? The thought of him coupling with guest star Sean Young...

7.23.02 - Sean Young will guest star on the first two episodes of the season beginning on Monday, September 30th.

7.18.02 - Third Watch was nominated for two Emmy Awards: Outstanding Sound Editing for a Series ("Falling") and Outstanding Stunt Coordination ("Superheroes"). The Emmy Awards will air live on NBC on September 22nd, 2002.

6.3.02 - Don't miss Jason Wiles who is appearing this June at the Cape Playhouse in Dennis, Massachusetts in the show "Mass Appeal." It will be playing June 17th through 29th. June 17 - 29.

6.3.02 - Skipp Sudduth will be on The Rosie O'Donnell Show on Thursday, June 6th.

5.13.02 - Third Watch will continue to be on Mondays at 9pm ET next season.

5.9.02 - Third Watch has been officially picked up by NBC for a fourth season.

5.6.02 - TV Guide Online: Third Watch Meets Hill Street Blues - Realistic cop/rescue dramas like ER, NYPD Blue and Third Watch owe much to the down-and-dirty 1980s hit Hill Street Blues. How apropos, then...

5.1.02 - NBC won the fifth night of the May sweep with a 6.2/16 in the A18-49 demo according to Nielsen Media Research. The strength of the NBC line-up was Third Watch at 9pm delivering a network high (not to mention a series high) of 7.0/16 in the demo, beating perennial 9pm winner Everybody Loves Raymond.

4.17.02 - Eddie Cibrian has been nominated for an ALMA Award as Outstanding Actor in a Television Series, and Jesús Treviño has been nominated as Outstanding Director of a Television Drama or Comedy for the episode Adam 55-3. The ALMA Awards are presented by the National Council of La Raza and honors achievements by Latinos in the entertainment industry. The awards ceremony will air on ABC on Saturday, June 1st at 8pm Easter and Pacific.

4.15.02 - Bobby Cannavale will guest star in the April 22nd episode of Ally McBeal.

3.29.02 - The Third Watch episode "Requiem for a Bantamweight" has received a nomination for a PRISM Award. PRISM Awards honor the accurate portrayal of drug and alcohol use and addiction in the entertainment industry. The awards are presented by the Entertainment Industry Council, a nonprofit group that encourages social responsibility in the entertainment world, along with the Robert Wood Johnson Foundation and the National Institute on Drug Abuse. The ceremony will take place Thursday, May 9, and be taped for a syndicated broadcast by Tribune Entertainment.

3.28.02 - The Peabody Awards were announced yesterday, and an award was given to the special episode of Third Watch, "In Their Own Words."

3.5.02 - TV Guide Online "Caught in the Act" - Motivational Health: Eddie Cibrian and his wife, Brandi, celebrate his April cover of Men's Health at the magazine's re-design party in New York City.

1.5.02 - From the January 5th issue of TV Guide: Lisa Vidal (Doc's missing-in-action ex-fiance Dr. Sarah Morales) says she's "incredibly blessed" to be playing two strong women in uniform on TV: a cop on Lifetime's The Divsion, which launches its second season January 6, and a lesbian firefighter on NBC's ER. "I'm gone in the morning and back late. My kids [Scott, 8, and Max, 3] don't love it. But my husband [Jay Cohen, who's in real estate] isn't complaining. He sees those checks rolling in," Vidal says. Coming up: Her first screen kiss with ER's Dr. Weaver (Laura Innes). "That was a whole new experience for me," she says. "Every man on the set showed up to watch that kiss. Men are so funny! Laura and I lost count how many takes it took. She's a great kisser."

11.30.01 - TV Guide Online "Caught in the Act" - Be true to your schools! Amy Carlson and Eddie Cibrian demonstrate their unwavering dedication to New York City public schools at PENCIL's (Public Education Needs Civic Involvement in Learning) benefit at the Hammerstein Ballroom.

10.29.01 - TV Guide Online: Third Watch Cop Faces Sept. 11 - a short interview with Jason Wiles on the recent three-episode story arc.

10.19.01 - Zap2It.com: A & E to Rebroadcast 'Third Watch' Special - The "Third Watch" special honoring New York's finest and bravest will re-air Friday, Oct. 26 on A & E...

10.15.01 - TV Guide Online: Watch Word: Terrorism

10.12.01 - Zap2It.com: 'Third Watch' Starts Third Season on Somber Note - At first, "Third Watch" executive producer John Wells was unsure how to incorporate the effects of Sept. 11 into the NBC show about New York firefighters, paramedics and police officers....

10.2.01 - Third Watch debuts this season on NBC on October 15th at 9pm, and that debut will be a unique one. The non-scripted hour will find the cast of Third Watch, in character, interacting with real policemen and firefighters in New York City, as they do their jobs, pre-attack. This is the first episode of a 3-ep story arc. The second ep on October 22 is titled September 10th, depicting life one day prior to the terrorist attacks, and watching how events unfold in the hours, minutes, and moments before the first strike. The third episode, October 29th, takes place one week after the attack, highlighting the heroism as well as the loss. Executive Producer/Creator John Wells: "We thought the best way to proceed after the tragic events of September 11th would be to allow them to tell their own stories in their own words. We're honored that many have agreed to do so on October 15th."

9.24.01 - Don't miss "Doctor Dolittle," starring Ossie Davis, which will air on ABC on Sunday, October 7th.

9.17.10 - A&E network has acquired Third Watch for an estimated $700,000 per episode from Warner Bros. Domestic TV Distribution, filling the void when it loses Law & Order in September 2002. Under the terms of the deal, A&E may choose to air the show five times a week for the full 8 years, provided NBC continues to renew the series on the network.

9.13.01 - Due to disaster coverage on NBC, the season premiere of Third Watch has been pushed back to Monday, September 24th.

9.12.01 - Third Watch, which films in New York, has temporarily halted production and donated all generators and water to the relief efforts in southern Manhattan.

7.12.01 - Third Watch received an Emmy nomination for Outstanding Sound Editing for a Series for the episode "Honor."

7.6.01 - Nothing definite yet, but NBC is considering a celebrity edition of The Weakest Link to kick off the new primetime season, the week of September 17th. The first celebrity edition may be on that Monday at 8pm featuring the cast of Third Watch, which immediately follows at 9pm.

6.19.01 - The June 19th issue of Soap Opera Digest reports that on May 12th, in Laguna Niguel, CA, Eddie Cibrian married his long-time girlfriend, model Brandi Glanville.

6.17.01 - "Soul Food," starring Michael Beach, will air on ABC on Saturday, June 30th.

6.15.01 - Third Watch is one of 4 finalists for a Humanitas Prize in the 60-minute drama category. Ed Bernero wrote the episode entitled "After Hours." The Humanitas Prize rewards writers who explore positive values and the complexity of human experience. Finalists were chosen from over 400 submissions. Winners, to be announced on June 28th, will share $130,000 in prizes.

5.14.01 - NBC's official Fall Schedule was released today and Third Watch will be returning, although one hour earlier. Third Watch's new time-slot will be Mondays at 9pm ET, followed by the new show Crossing Jordan.

5.9.01 - Third Watch has been nominated for an Imagen Award for best TV drama. The 16th annual Imagen Awards, which honor positive portrayals of Latinos, will be presented on June 14th.

4.19.01 - Zap2It.com: Harmon Gave Sehorn Acting Tips - Before her fiance, New York Giants cornerback Jason Sehorn, taped his acting debut, a guest spot on Third Watch, Angie Harmon gave him a few tips...

4.9.01 - Third Watch has received a Prism Award for the episode "Know Thyself." The show has also been given a Prism Certificate of Merit for the episode "After Hours." Prism recognizes work in which members of the entertainment community take an active role in addressing drug abuse in America. The 5th annual Prism awards, hosted by Jamie Lee Curtis and Richard Lewis, were taped April 4th. No word yet when or where they will air.

3.28.01 - Third Watch has been awarded the American Women in Radio & Television's Gracie Allen Award for Outstanding National Entertainment Program – Drama. The Gracies, which will be presented in a ceremony in New York on May 31st, encourage the positive and realistic portrayal of women in entertainment, commercials, news, features and other media.

3.10.01 - John Wells's new series, The Second Act, has been given a 13-episode order by CBS. It stars James Cromwell as a US senator who isn't elected for a second term, and then returns home to live with his three grown daughters. John Wells will be co-producing with Lydia Woodward.

3.6.01 - Zap2It.com: Cannavale Moves from Third Watch to Centre Street

3.1.01 - For those of you missing Bobby Cannavale already, keep an eye out for him on A&E's "100 Centre Street."

2.10.01 - John Wells was named one of the MVP producers of TV in the February 10th issue of TV Guide.

2.8.01 - WB Press Release: On Monday, February 5th, "Third Watch" dominated the 10 PM timeslot in all Men, Women & Adult demos, and doubled its nearest rival among Adults 18-34 (4.9/14 vs. Family Law's 2.4/7). "Third Watch" was the #1 show for NBC, nearly doubling its "Dateline" lead-in among all Men & Women demos. While most programs of the night lost viewers, "Third Watch" captured more than the usual suspects, with the highest growth from start to finish (A18-34 +36%, A18-49 +25%, A25-54 +31%).

2.1.01 - Warner Bros. Promo: On Mon. Jan. 29, THIRD WATCH (8.3/14 HH, 4.5/12 A18-49) dominated its 10PM time period, ranking #1 among men and women for both 18-34 and 18-49, and besting Gideon's Crossing by +36% among A18-49 and Family Law by +13% A18-49. The police, firefighters, and emergency workers of THIRD WATCH jumped over their Dateline NBC lead-in among Households (+11%/+27%), A18-49 (+36%/+50%), and all other key demos! None of the time period competitors matched the show's lead-in improvement.

12.8.00 - There is a two-page article on "Third Watch" and the big changes in story-telling this season in the December 8th issue of Entertainment Weekly (starting on page 23).

11.29.00 - "Third Watch" delivered its season-to-date high with all women demos Monday night. It took first place in its 10pm time slot. And as NBC's #1 show of the night, it increased over its "Law & Order" (repeat) lead-in.

10.24.00 - First Alert is sponsoring a Third Watch sweepstakes, in which you could win a role on the show.

9.21.00 - TV Guide Online: Watch Role Reversal - Third Watch fans won over by the heroics of dedicated paramedic Bobby Caffey last season are in for a rude awakening.

9.11.00 - "Third Watch" Emmy Award Wins! (1)
Outstanding Sound Editing for a Series (Walter Newman, Supervising Sound Editor; Thomas A. Harris, ADR Editor; Clay Collins, Darleen Stoker-Kageyama, Karyn Foster, Dialogue Editor; Darren Wright, Kenneth D. Young, Rick Camara, Rick Hromadka, Sound Editors; Allan Rosen, Music Editor; Casey Crabtree, Mike Crabtree, Foley Artists for "Welcome to Camelot")

7.20.00 - "Third Watch" has been nominated for an Emmy for Outstanding Sound Editing for a Series (Welcome to Camelot). The Emmy Awards will be presented on September 10th and broadcast live on ABC.

6.13.00 - Friday, June 16th, is Eddie Cibrian's birthday. Happy Birthday!

6.13.00 - Eddie Cibrian is in a musical group called 3Deep with Joshua Morrow ("The Young and the Restless") and CJ Huyer. They have a new album out called "Yes, yes, yes... No, no, no."

4.26.00 - AP: Coby Bell on Cusp of Celebrity

4.11.00 - Eddie Cibrian is set to star with Martin Landau, Jacqueline Bisset and Omar Sharif in an NBC miniseries titled "In the Beginning," according to The Hollywood Reporter. The project, a compilation of the Bible's greatest tales, is tentatively scheduled to air in November.

4.11.00 - Eddie Cibrian is also set to star in "Say It Isn't So," the latest project from the Farrelly brothers. According to The Hollywood Reporter, Cibrian will play Heather Graham's fiance.

3.13.00 - Check out Ultimate TV's profile on Michael Beach.

12.3.99 - "Third Watch" has received a People's Choice Award nomination for favorite new TV drama. The awards will be presented on January 9th, 2000, and the ceremony will be broadcast on CBS.

12.2.99 - Michael Beach was nominated for a 2000 NAACP Award for Outstanding Actor in a Drama Series. The awards ceremony will be broadcast by FOX early next year.

2.1.00 - This past New Year's Eve, Eddie Cibrian proposed to his long-time girlfriend, model Brandi Glanville. No wedding date has been set.